Today, i watched a video and my eyes were welled up in tears in the process. One day, when you get to see 'terry' and i am able to tell you my story, you will understand every tear of mine.
I won't go to deeply into discussing these things now but if you have looked closely into all the things i have embarked on, especially here on steem, starting from "#steemgigs" (everyone has something to offer), to #ulog, #untalented, #teardrops, #surpassinggoogle, #macrohard etc, you will understand every tear of mine.
This video gave me some healing:
@hlezama is faraway in Venezuela but he has given-in to looking at me, "a fellow human" and he has applied his "human", so that he can understand this fellow human and he has applied his human, in deciding to play a role in this fellow human's dream.
So much wealth i see!
Not again should it be said that a human is poor. Not even are there 'impoverished countries'. A human is incapable of being poor and i want to show this to the world through the #ulog movement.
My dad wears rags. I have not a dime but 'your boy terry' is a constant, 'bulls or bears', for there are "humans" involved. This is not poverty.
VIA the simple art of ulogging, i hope that we begin to create more value for "human".
At the very least, if you had a "human" next to you, how can you be poor? If you had a brain powerful than super-computers, 'the 5 senses' and a mind's eye filled with colors, how can you be poor? Then, what more if you had dreams i.e are capable of making up dreams?
Not a soul made in Jehovah's image is poor and #ulog will reveal or highlight this.
In this video, my eyes welled with tears. If a human somewhere in Venezuela can appeal to my soft-spot, to my essence and connect to my human, then how can he be poor and how can i be poor?
Well, "i am just playing" but this particular play has testimonial essence, so, let me play a bit.
Ulogging is play but it is giving 'play' more testimonial essence. It is giving 'fun' direction. Ulogging is a fun, playful art but ulogging has a world adjusting component and it already shows.
I re-saw all this and more in  hlezama's video above!
Overall, when i can find someone from the nook and crannies of mama earth, somewhere out there, who can peer into my world just a bit and manage to grasp my intentions, dreams and vi-mission, it helps me heal.
Now, when this person sees into my tough dreams and decides to still play a role in it as "human" (brother), whether bulls or bears, the world is healing.
The best sandbox for dreams is 'a world of brothers'.
Thank you @hlezama!
Please Meet A "Certified Ulogger", In The Person Of @hlezama
Please follow him, delegate to him, leave him a powerful comment, help him build his dream.
He is a retired professor and he wants to have a large home filled books, where people can gather constantly, to read all they want. Please visit with him on https://ulogs.org/@hlezama and give him suggestions, directions etc, partner with him, bring related-opportunities his way, become his true fans and more.
When ulogs UI is settled and in place, we hope to give him a small home on our UI and a sandbox, where he can rehearse and play some of these his dreams out into fruition.
Your Boy Terry
@surpassinggoogle
You can support the Fundition post for Steemgigs Development here:
Quick sIDE-note
If you are a programmer and you have time on hand, i still have some open task requests (with bounties):
Special Note
If you are a developer or anyone who passionately loves these projects e.g ulogs.org, steemgigs.org the teardrops SMT etc and would like to help build it and see that it comes to life, kindly send an email to uloggers@gmail.com
There is a lot to build.
If you are a potential advisor and one who can help with directions, suggestions and connections, please join in too by sending an email to uloggers@gmail.com
When it comes to raising some capital, it is not very defined yet what we will do but again, with "a truly solid community of brothers", nothing is impossible. It is highly likely that there won't be an ICO, even though our primary project ulogs.org is aiming to "surpass google"  and would require a real budget. We will look for ways to accomplish our goal without an ICO, taking the more testimonial harder route.
When a team is in place though, these are things that we will discuss.
Another Special Note
In the upcoming task request for ulogs.org, you will really see how massive the #ulog project is and where it is headed.
It is world adjusting and it will need solid hands.
Kindly vote for the "steemgigs" witness.
If you want to support an extra witness and you support mine "steemgigs", it will be really helpful.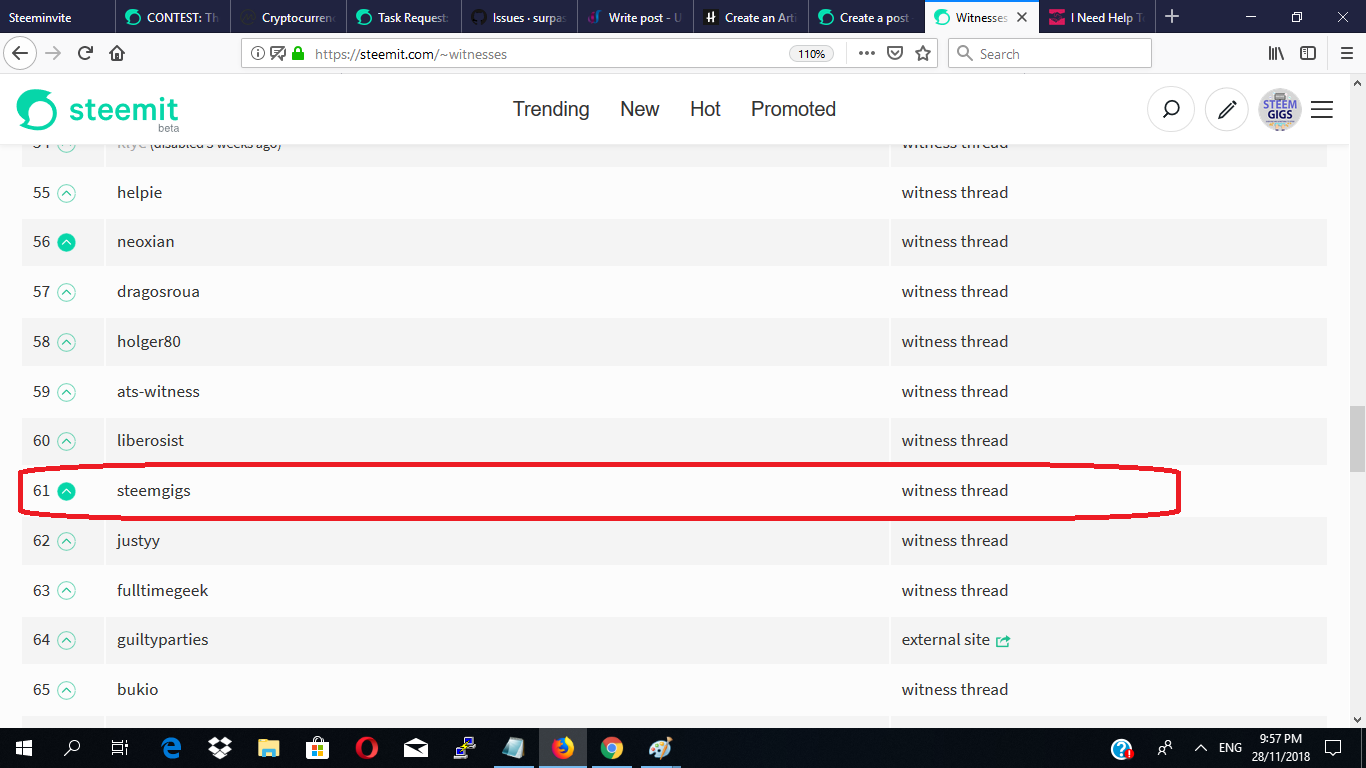 To vote my witness, simply visit https://steemit.com/~witnesses and upvote "steemgigs" or simply click Here to do it on one click!

 If you want me to make witness voting decisions on your behalf, simply visit https://steemit.com/~witnesses and type in "surpassinggoogle" in the second box for proxy.
Subscribe to us on YouTube: UloggersTV
Become A Certified Ulogger
Disregard if you have participated!
Hi family, note that the whole ecosystem for the Teardrops SMT will be built around "certified uloggers". It will reward "proof of tears" or "mining the human" and will be used also as a token of influence on 3   steem-based interfaces i.e steemgigs.org, ulogs.org and @macrohard; all of which are modeled to "mine the human" into its awesomest version and all of which will be built around "a growing list of certified uloggers".
It is time to grow this list and gather now.
Note that the teardrops smt will seek to reward "past deeds" too.  The @teardrops token should be loved and succeed, "bulls or bears" because "human" is involved.
Thus, we will build this token around "certified uloggers" as these ones are "true celebrities", who are also "true fans" of human and of the "teardrops token", which  is "an emblem of human".
It is time to gather now.
Kindly help me participate by going through this google form and   filling it up, if you have done a post at any time, under any of these  tags: #ulog #untalented #steemgigs #teardrops #surpassinggoogle.
https://goo.gl/forms/jR5sPPoqkwM8zzvl1
If you have never done a post under any of the tags mentioned earlier  above, please read this form carefully and participate, by filling it up:
https://goo.gl/forms/G1GmCp83lcmM5xeZ2
Consider contributing a video ulogacy for uloggerstv
We will gradually be sending out a URL linking to exclusive chat-rooms for "certified uloggers". We will send this in an email.
Please share appropriate form to any friend or acquaintance, who has a steem account.